Social Program
Banquet
The ICEC 2005 banquet is held on Tuesday September 20th at Hotel New Hankyu Kobe Sanda, in the city of Sanda. The banquet will be accompanied with music played by Takayuki Rai and Ailing Sai.
Program
Takayuki Rai: Lucent Aquarelle for harp and computer (2001)
This work was composed for harp and a live computer system, consisting of a Macintosh computer running Max/MSP. The live computer system samples the sound of the harp, performs digital signal processing on it, and reproduces the transformed harp sound in the hall in real-time. Various sound synthesis and signal processing techniques, including modulating spectral data through FFT/iFFT processing, are employed. This piece was commissioned by and premiered at the Media Art Festival 2001 at Shizuoka University of Art and Culture in Japan, and selected for performance at the 2002 International Computer Music Conference in Gothenburg, Sweden. While the computer technology is involved the piece keeps the classical instrumental image of the harp.
Takayuki Rai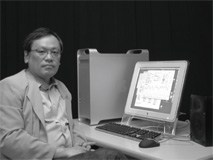 Takayuki Rai was born in Tokyo in 1954. He studied composition with Yoshiro Irino in Japan and Helmut Lachenmann in Germany, and computer music with Paul Berg at the Institute of Sonology in the Netherlands. He worked at the Institute of Sonology as a guest composer from 1982 until 1990. His works have been selected at numerous international competitions, including the Gaudeamus Competition of Composition, the ISCM World Music Days, and the International Computer Music Conference. He also won the premier prizes at the 13th and 17th International Electroacoustic Music Competition Bourges in France, the Irino Composition Prize in Japan, and 1st prize at the NEWCOMP International Computer Music Competition in USA. In 1991 he received the ICMA (International Computer Music Association) Commission Award. Since 1991 he has been teaching computer music at the Sonology Department, Kunitachi College of Music in Tokyo.
Ailing Sai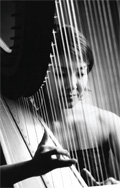 Ailing Sai was born in Tokyo in 1979. She started harp studies at the age of 16 and studied harp at the Kunitachi College of Music and the Tokyo National University of Fine Arts with Ayako Shinozaki. While she was an undergraduate student she began performing contemporary music and computer music. She has performed in a number of prominent computer music events in Japan including the InterCollege Computer Music Festival, the Media Art Festival 2001 in Hamamatsu, SonicArt 2002 and 2003 in Tokyo, and the SIGMUS Computer Music Symposium 2004 in Yokohama. She has also performed as a solo harpist at the International Computer Music Conference (ICMC) 1999 in Beijing and the ICMC 2002 in Gothenburg. In 2003 she won the third prize in the category of stringed instruments at the Osaka International Music Competition. She gave a solo recital with contemporary and computer music repertoire in Tokyo in 2004.
Dinner & Noh Play
An optional event "dinner and Noh play" is held on Wednesday September 21st at Sandaya Restaurant. Sandaya is a very good beef steak restaurant in the area, and it is the only one "steak restaurant with Noh stage" in the world. Noh is a classical Japanese performance form which combines elements of dance, drama, music and poetry into one highly aesthetic stage art. It is performed by professional artists, mainly men, who have passed down the art among family members for numerous generations.
Program
Zeami: HAGOROMO

'The Robe Of Feathers'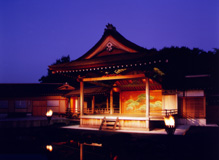 Some fishermen are walking at Matsubara on Mio Bay when one of them finds a beautiful robe hanging from the branch of a pine tree. He is about to take this home when an angel comes to claim it, explaining that it is a feather robe from Heaven. This makes the fisherman determined to keep it as a national treasure, but when the angel tells him that without it she can never again ascend to Heaven he is so moved by her distress that he agrees to return it if she will dance for him. He at first refuses to give it back before she dances for fear that she will fly away as soon as the robe is hers again, but when the angel tells him that such behavior is only to be found in the ways of men, he shamefacedly gives up the robe. Overjoyed now, the angel puts it on and dances. Then, calling down blessings without number on the land, she disappears up to Heaven among the mists and clouds.
Zeami and Noh
Noh developed into its present form during the 14th and 15th centuries under the leadership of the distinguished performer -playwrights Kannami and his son Zeami. Zeami, in particular, wrote numerous plays which are still performed in today's classical repertory of some 250 plays. He also wrote a number of secret works which explain the aesthetic principles governing Noh and give details on how the art should be composed, acted, directed, taught, and produced. Noh flourished during Zeami's time under the patronage of the military shogun Ashikaga Yoshimitsu. Later during the Edo period (1603-1868), Noh became the official performance art of the military government. Feudal military lords throughout the country supported their own troupes and many studied and performed the art themselves.
Access to Sandaya Restaurant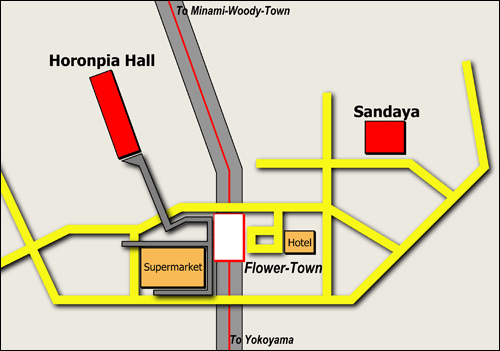 Sandaya restaurant is located at a walking distance of 2 minutes from Flower-Town station as shown below. To get Flower-Town from KSC, take a bus to Century Plaza Mae, Woody Town Chuo Eki, or Minami Woody Town Eki, then take a train of Shintetsu Line to Flower-Town.