Conference Program
Titles with (L) are long presentations and the others in oral sessions are short presentations. 30 minutes are assigned for each long presentation including Q&A and 20 minutes are assigned for each short presentation.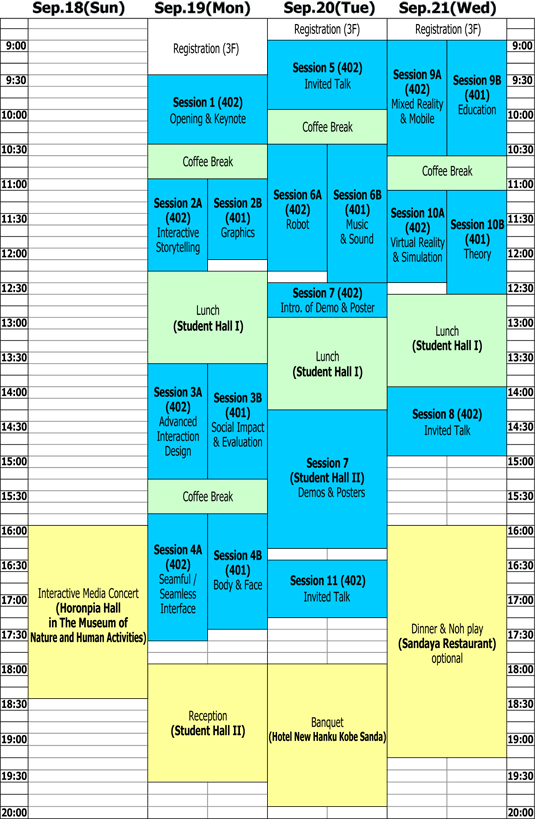 Sunday September 18
Horonpia Hall in the Museum of Nature and Human Activities
Monday September 19
A New Framework for Entertainment Computing: from Passive to Active Experience
Ryohei Nakatsu, Matthias Rauterberg, Peter Voderer, IFIP SIG16
(Coffee Break) 10:30 ~
Session 2A (402) 11:00 ~
Interactive Digital Storytelling (80 min.)
Chair: Ville-Veikko Mattila, Nokia Research Center, Finland
Cultural Computing with Context-Aware Application: ZENetic Computer (L)
Naoko Tosa, Seigow Matsuoka, Brad Ellis, Ryohei Nakatsu, Hirotada Ueda
Kyoto University, Japan
Automatic Conversion from E-content into Animated Storytelling (L)
Kaoru Sumi, Katsumi Tanaka
NICT, Japan
Key Action Technique for Digital Storytelling
Hiroshi Mori, Junichi Hoshino
University of Tsukuba, Japan
Session 2B (401) 11:00 ~
Graphics (70 min.)
Chair: Jos W.H.M. Uiterwijk, Universiteit Maastricht, The Netherlands
A New Constrained Texture Mapping Method (L)
YanWen Guo, Jin Wang, Xiu-Fen Cui, Qun-Sheng Peng
Zhejiang University, China
Protect Interactive 3D Models via Vertex Shader Programming
Zhigeng Pan, Shusen Sun, Jian Yang, Xiaochao Wei
Zhejiang University, China
An Optimized Soft 3D Mobile Graphics Library Based on JIT Backend Compiler
Bailin Yang, Lu Ye, Zhigeng Pan, Guilin Xu
Zhejiang University, China
(Lunch at Student Hall I) 12:20 ~
Session 3A (402) 13:40 ~
Advanced Interaction Design (100 min.)
Chair: Sidney Fels, University of British Columbia, Canada
Frame Rate Control in Distributed Game Engine (L)
Xizhi Li, Qinming He
Zhejiang University, China
A Universal Interface for Video Game Machines Using Biological Signals (L)
Keisuke Shima, Nan Bu, Masaru Okamoto, Toshio Tsuji
Hiroshima University, Japan
Development of a System to Measure Visual Functions of the Brain for Assessment of Entertainment
Akihiro Yagi, Kiyoshi Fujimoto, Tsutomu Takahashi, Atsushi Noritake, Masumi Iwai, Noriyuki Suzuki
Kwansei Gakuin University, Japan
SportsVBR: A Content-Based TV Sports Video Browsing and Retrieval System
Liu Huayong, Zhang Hui
Central China Normal University, China
Session 3B (401) 13:40 ~
Social Impact and Evaluation (100 min.)
Chair: Espen Aarseth, IT University of Copenhagen, Denmark
Online Community Building Techniques Used by Video Game Developers (L)
Christopher Ruggles, Greg Wadley, Martin R. Gibbs
The University of Melbourne, Australia
Aggregation of Action Symbol Sub-sequences for Discovery of Online-Game Player Characteristics Using KeyGraph (L)
Ruck Thawonmas, Katsuyoshi Hata
Ritsumeikan University, Japa
Agreeing to Disagree – Pre-game Interaction and the Issue of Community
Jonas Heide Smith
IT University of Copenhagen, Denmark
Keyword Discovery by Measuring Influence Rates on Bulletin Board Services
Kohei Tsuda, Ruck Thawonmas
Ritsumeikan University, Japan
(Coffee Break) 15:20 ~
Session 4A (402) 15:50 ~
Seamful / Seamless Interface (110 min.)
Chair: Andy Sloane, University of Wolverhampton, United Kingdom
Seamful Design for Location-Based Mobile Games (L)
Gregor Broll, Steve Benford
LMU University Munich, Germany
A Display Table for Strategic Collaboration Preserving Private and Public Information (L)
Yoshifumi Kitamura, Wataru Osawa, Tokuo Yamaguchi, Haruo Takemura, Fumio Kishino
Osaka University, Japan
Gamble - A Multiuser Game with an Embodied Conversational Agent (L)
Matthias Rehm, Michael Wissner
University of Augsburg, Germany
Touchable Interactive Walls: Opportunities and Challenges
Kelly L. Dempski, Brandon L. Harvey
Accenture Technology Labs, USA
Session 4B (401) 15:50 ~
Body and Face (100 min.)
Chair: Saeko Takagi, Wakayama University, Japan
Generic-Model Based Human-Body Modeling (L)
Xiaomao Wu, Lizhuang Ma, Ke-Sen Huang, Yan Gao, Zhihua Chen
Shanghai Jiao Tong University, China
Facial Expression Recognition Based on Two Dimensions Without Neutral Expressions (L)
Young-Suk Shin, Young Joon Ahn
Chosun University, South Korea
Subjective Age Estimation System Using Facial Images
Naoyuki Miyamoto, Yumi Jinnouchi, Noriko Nagata, Seiji Inokuchi
Kwansei Gakuin University, Japan
A Video Based Personalized Face Model Generation Approach for Network 3D Games
Xiangyong Zeng, Jian Yao, Mandun Zhang, Yangsheng Wang
Chinese Academy of Sciences, China
Reception 18:00 ~
Student Hall II
Tuesday September 20
The Existing State and Trend of Japanese Game Industry & Game Technology
Tetsuji Baba, Namco Limited, Japan
(Coffee Break) 10:00 ~
Session 6A (402) 10:30 ~
Robot (110 min.)
Chair: Hyun S. Yang, KAIST, Korea
Live Feeling on Movement of an Autonomous Robot Using a Biological Signal (L)
Shigeru Sakurazawa, Keisuke Yanagihara, Yasuo Tsukahara, Hitoshi Matsubara
Future University-Hakodate, Japan
Detection of Speaker Direction based on the On-and-Off Microphone Combination for Entertainment Robots
Takeshi Kawabata, Masashi Fujiwara, Takanori Shibutani
Kwansei Gakuin University, Japan
Robot Navigation by Eye Pointing
Ikuhisa Mitsugami, Norimichi Ukita, Masatsugu Kidode
Nara Institute of Science and Technology, Japan
Virtual Human with Regard to Physical Contact and Eye Contact
Asami Takayama, Yusuke Sugimoto, Akio Okuie, Tomoya Suzuki, Kiyotaka Kato
Tokyo University of Science, Japan
Power, Death and Love: A Trilogy for Entertainment
Ben Salem, Matthias Rauterberg
Technische Universiteit Eindhoven, United Kingdom
Session 6B (401) 10:30 ~
Music and Sound (120 min.)
Chair: Naoki Saiwaki, Nara Women's University, Japan
The MUSICtable: A Map-based Ubiquitous System for Social Interaction with a Digital Music Collection (L)
Ian Stavness, Jennifer Gluck, Leah Vilhan, Sidney Fels
University of British Columbia, Canada
Painting as an Interface for Timbre Design (L)
Michael Bylstra, Haruhiro Katayose
Kwansei Gakuin University, Japan
ism: Improvisation Supporting Systems with Melody Correction and Key Vibration
Tetsuro Kitahara, Katsuhisa Ishida, Masayuki Takeda
Graduate School of Informatics, Kyoto University, Japan
Physically-based Sound Synthesis on GPUs
Qiong Zhang, Lu Ye, Zhigeng Pan
Zhejiang University, China
On Cognition of Musical Grouping: Relationship Between the Listeners' Schema Type and Their Musical Preference
Mitsuyo Hashida, Kenzi Noike, Noriko Nagata, Haruhiro Katayose
Wakayama University, Japan
Session 7 (402) 12:20 ~
Introduction of Demos and Posters (40 min.)
(Lunch at Student Hall I) 13:00 ~
Session 7 (Student Hall II) 14:20 ~
Demo and Poster (120 min.)
Extended abstracts of D06 through D09 and P04 through P12 are included in the second proceedings.
Demonstrations
D01: Agents from Reality
Kazuhiro Asai, Atsushi Hattori, Katsuya Yamashita, Takashi Nishimoto, Yoshifumi Kitamura, Fumio Kishino
Osaka University, Japan
D02: Making Collaborative Interactive Art "Ohka Rambu"
Ryota Oiwa, Haruhiro Katayose, Ryohei Nakatsu
Kwansei Gakuin University, Japan
D03: A Computerized Interactive Toy: TSU.MI.KI
Yuichi Itoh, Tokuo Yamaguchi, Yoshifumi Kitamura, Fumio Kishino
Osaka University, Japan
D04: Multimodal Wayfinding in a Driving Simulator for the Schaire Internet Chair, a Networked Rotary Motion Platform
Kazuya Adachi, Ken'ichiro Iwai, Eiji Yamada, Michael Cohen
University of Aizu, Japan
D05: Aesthetic Entertainment of Social Network Interaction: Free Network Visible Network
Adrian David Cheok, Ke Xu, Wei Liu, Diego Diaz Garcia, Clara Boj Tovar
Interaction and Entertainment Research Center, NTU, Singapore
D06: Anatomy-Based Facial Animation for Life-Like Digital Actor
Kiju Park, In-ho Lee
Electronics and Telecommunications Research Institute, Korea
D07: Development of a Chat System Using 3D Facial Image Synthesis on Flash
Naoya Miyashita, Takashi Sato, Norihiko Matsuura, Tadashi Nakanishi
NTT Cyber Solutions Laboratories, Japan
D08: A Multiplayer Whack-A-Mole Game Using Gestural Input in a Location-Sensitive and Immersive Environment
Koji Yatani, Masanori Sugimoto, Hiromichi Hashizume
University of Tokyo, Japan
D09: RoboGamer Mark 2: Development of a Collaborative Portable TV Game Playing Robot
Akihiko Shirai, Lionel Dominjon, Masafumi Takahashi, Kazunori Miyata, Makoto Sato
CPNI Laboratory Laval / ENSAM, Japan
Posters
P01: Motion Illusion in Video Images of Human Movement
Kiyoshi Fujimoto, Akihiro Yagi
Kwansei Gakuin University, Japan
P02: A Chat System Based on Emotion Estimation from Text and Embodied Conversational Messengers
Chunlng Ma, Helmut Prendinger, Mitsuru Ishizuka
University of Tokyo, Japan
P03: AR Pueblo Board Game
Jongweon Lee, Byung Chul Kim
Sejong University, South Korea
P04: Capture the Flag : A Social Interactive, Wide Area and Location-Based Game for Smart Phones
Adrian David Cheok, Anuroop Sreekumar, Lei Cao, Sze Lee Teo, Nam Thang Le
National University of Singapore, Singapore
P05: Categorical Relationship of Objects Influences Visual Working Memory.
Naoki Yamamoto, Akihiro Yagi
Kwansei Gakuin University, Japan
P06: Exercise Meter Using Triaxial Acceleration Data
Yoshinori Tanabe, Masakazu Asano, Keiko Watanabe, Hirokazu Genno, Ken-ichi Nemoto, Hiroshi Nose
SANYO Electric Co., Ltd., Japan
P07: Electrophysiological Brain Activities Evoked by 3D Images with Binocular Disparity
Tsutomu Takahashi, Akihiro Yagi
Kwansei Gakuin University, Japan
P08: Relationship between the Mismatch Negativity and the Neuronal Coding in Rhythm Change
Seiji Tamakoshi, Akihiro Yagi
Kwansei Gakuin University, Japan
P09: activeCanvas: Using Ambient Displays as a Canvas for Embedded Interactive Art
Daisuke Sakamoto, Tetsuo Ono
Guraduate school of Future University-Hakodate, Japan
P10: Interactive VR System for Entertainment
Kyusung Cho, Taewoo Han, Juho Lee, Hyun S. Yang
KAIST, Korea
P11: The Violation of Harmony by Seventh Chords: An Event-related Brain Potential Study
Daiki Sawai, Akihiro Yagi
Kwansei Gakuin University, Japan
P12: Proposal of Stage Set Interface for Musical Arrangement and Performance
Seiko Myojin, Tetsuro Tatemitsu, Mie Nakatani, Hirokazu Kato, Shogo Nishida
Osaka University, Japan
Session 11 (402) 16:30 ~
Invited Talk
Roy Ascott, University of Plymouth, England
Hotel New Hankyu Kobe Sanda
Wednesday September 21
Session 9A (402) 9:00 ~
Mixed Reality and Mobile (100 min.)
Chair: Adrian David Cheok, Nanyang Technological University, Singapore
Augmented Reality Agents in the Development Pipeline of Computer Entertainment (L)
Istvan Barakonyi, Dieter Schmalstieg
Graz University of Technology, Austria
Collaborative billiARds: Towards the Ultimate Gaming Experience (L)
Usman Sargaana, Hossein S. Farahani, Jongweon Lee, Jeha Ryu, Woontack Woo
GIST U-VR Lab, South Korea
Multi-dimensional Game Interface with Stereo Vision
Yufeng Chen, Mandun Zhang, Peng Lu, Xiangyong Zeng, Yangsheng Wang
Chinese Academy of Sciences, China
Experiments of Entertainment Applications of a Virtual World System for Mobile Phones
Hiroyuki Tarumi, Kasumi Nishihara, Kazuya Matsubara, Yuuki Mizukubo, Shouji Nishimoto, Fusako Kusunoki
Kagawa University, Japan
Session 9B (401) 9:00 ~
Education (100 min.)
Chair: Jun'ichi Hoshino, University of Tsukuba, Japan
A Tutoring System for Commercial Games (L)
Pieter Spronck, Jaap van den Herik
Universiteit Maastricht, Netherlands
Non-verbal Mapping between Sound and Color - Mapping Derived from Colored Hearing Synesthetes and Its Applications - (L)
Noriko Nagata, Daisuke Iwai, Sanae H. Wake, Seiji Inokuchi
Kwansei Gakuin University, Japan
Design and Implementation of a Pivotal Unit in a Games Technology Degree
Shri Rai, Chun Che Fung, Arnold Depickere
Murdoch University, Australia
Interactive Educational Games for Autistic Children with Agent-Based System
Karim Sehaba, Pascal Estraillier, Didier Lambert
La Rochelle University, France
Coffee Break 10:40 ~
Session 10A (402) 11:10 ~
Virtual Reality and Simulation (80 min.)
Chair: Yuichi Itoh, Osaka University, Japan
User Experiences with a Virtual Swimming Interface Exhibit (L)
Sidney Fels, Steve Yohanan, Sachiyo Takahashi, Yuichiro Kinoshita, Kenji Funahashi, Yasufumi Takama, Grace Tzu-Pei Chen
University of British Columbia, Canada
Toward Web Information Integration on 3D Virtual Space (L)
Yasuhiko Kitamura, Noriko Nagata, Masataka Ueno, Makoto Nagamune
Kwansei Gakuin University, Japan
Ikebana Support System Reflecting Kansei with Interactive Evolutionary Computation
Junichi Saruwatari, Masafumi Hagiwara
Keio University, Japan
Session 10B (401) 11:10 ~
Theory (90 min.)
Chair: Akihiro Yagi, Kwansei Gakuin University, Japan
Effects of Team-Based Computer Interaction: The Media Equation and Game Design Considerations (L)
Daniel Johnson, John Gardner
Queensland University of Technology, Australia
The Ethics of Entertainment Computing
Andy Sloane
University of Wolverhampton, United Kingdom
Notes on the Methodology of Pervasive Gaming
Bo Kampmann Walther
University of Southern Denmark, Denmark
From Hunt the Wumpus to EverQuest: Introduction to Quest Theory
Espen Aarseth
IT-University of Copenhagen, Denmark
Lunch at Student Hall I 12:40 ~
Stephane Natkin, CNAM, France
Sandaya Restaurant